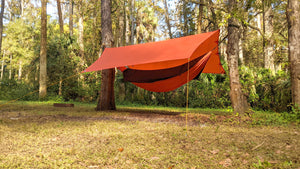 Hammock Camping Gear Designed for Experts, Beginners & Everyone In Between
New To Hammock Camping?
At GO! Outfitters, we know that you want to experience the bliss of hammock camping. In order to do that, you'll need to learn about hammock gear, techniques, and best practices. The problem is that there's a lot of conflicting information online, which can make you feel confused and frustrated.

We believe that learning about hammock camping should be fun and easy. We know how it feels to be confused by all of the gear and techniques to choose from. That's why we want to show you how to avoid the frustration so you can learn fast and start hammock camping like an expert.
Here's how we make it easy to learn!
Free Video Lessons
Our free video tutorials will quickly teach you the hammock camping techniques, tips and tricks that many experts use as well as what to look for when choosing gear. Product tutorials are located on each product's page and general hammock tutorials are on the "Tutorials" button in the menu. We made these tutorials so you can skip the confusion and get started as quickly and easily.
Expert Design
Our hammock gear is expertly designed and packed with the features that experienced hammock campers demand. When you purchase GO! Outfitters gear, you can be confident that you're investing in high quality equipment that you will enjoy for years to come. You'll also avoid wasting your money on poorly designed gear that you'll need to replace to get the most enjoyment out of hammock camping.
Your Personal Guide
We're here for you every step of the way. Our goal is to help as many people as possible experience this fun and rewarding hobby. Use the "Contact Us" button in the menu to request assistance. We're so serious about helping you get started hammock camping that Jason, the founder of GO! Outfitters, will personally reply to you whenever possible. How's that for commitment?